Omnia Capital
Omnia Capital is based in Geneva and authorized as a Swiss financial intermediary by the Swiss Federal Finance Administration (FINMA) in reference to the Swiss Anti-Money Laundering Act. Please click here for more details on institutions authorized by FINMA.
Its areas of expertise are High Yield & Emerging Market Bonds and the selection of Hedge Funds. Careful selection and diversification of investments in these sectors enables Omnia Capital to create portfolios with measured risk and enhanced return tailored to the risk profiles of its clients.
Omnia Capital can rely on sophisticated proprietary quantitative models for its fixed income portfolio composition. Equity investments are typically realized through third party funds.
At Omnia Capital, asset allocation is naturally geared towards capital preservation on a 12 month time horizon with a positive absolute return objective – subject to particular client request.
Summary of Activities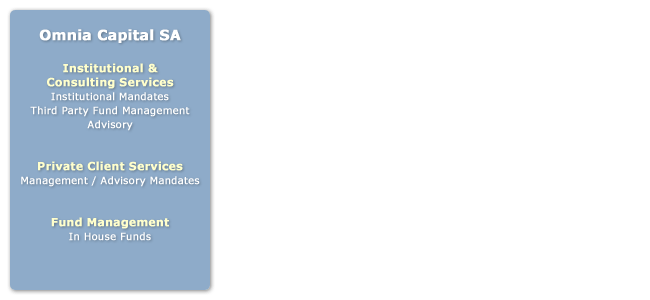 What makes Omnia Capital different
Omnia Capital focuses on absolute return strategies with a dynamic investment style driven by quantitative, thematic and opportunistic analysis.
Traditional passive, index type products are avoided.
All strategies are implemented with a positive absolute return objective. Benchmarks serve only as a reference.
Performance and opportunities are sought in part outside the main developed markets. Omnia Capital has strong in house expertise in emerging markets worldwide with a particular focus on High Yield Emerging Market Corporate Debt.
Omnia Capital's positioning within the investment universe
Impact of
market moves
Impact of
manager skill
Omnia Capital
expertise
Index Tracker
high
low
External funds
Investment Grade Bonds
high
low
Omnia Capital
G7 Equity
high
low
External funds
High Yield Bonds
medium
high
Omnia Capital
Emerging Market Bonds
medium
high
Omnia Capital
Concentrated Equity
medium
high
Omnia Capital
Real Estate
low
high
External funds
Private Equity
low
high
External funds
Hedge Funds
low
high
Omnia Capital